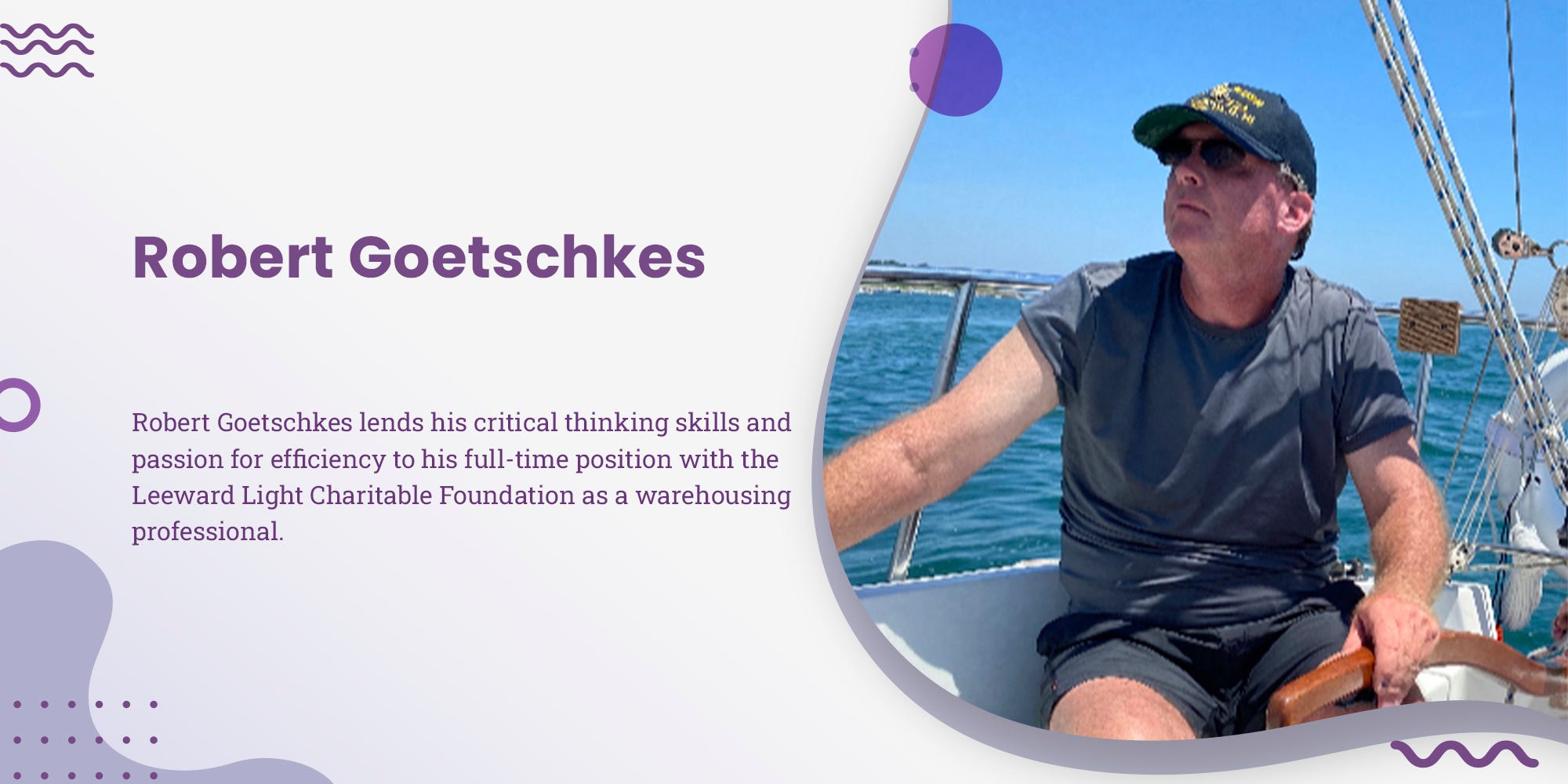 Robert Goetschkes: An Exemplary Educator and Philanthropist
With an impressive twenty-five years of first-hand experience in classroom management and instruction, Robert Goetschkes has established himself as an educational subject matter expert. Throughout his career, he has honed diverse skills, including curriculum development, innovative teaching methods, and establishing strong connections with students.

Currently, Goetschkes dedicates his critical thinking skills and passion for efficiency to the Leeward Light Charitable Foundation, where he holds a full-time position as a warehousing professional. In this role, he contributes his expertise to support the foundation's mission of giving back to the community.
An Education Shaped by Values
Growing up in Mahopac, a suburban community near New York City, Goetschkes was inspired by his father, a firefighter and plumber, to become a hero. Motivated by his father's example, he joined the Coast Guard during the first Gulf War, serving his country with honor.

Goetschkes pursued his education at Mahopac High School, graduating in 1984. He continued his studies at SUNY Oneonta, majoring in history, economics, and foil fencing, earning his degree in 1988. Furthering his educational qualifications, he obtained a Master of Arts in Elementary Education and a Field Endorsement in Secondary Social Sciences.

Demonstrating an indomitable spirit, Goetschkes worked three part-time jobs year-round and financed his college degree entirely through loans. This can-do attitude remained a driving force throughout his education, career, and 11-year service in the U.S. Coast Guard. In recognition of his exceptional academic achievements, Goetschkes gained entrance into the prestigious Alpha Sigma Lambda Honors Fraternity in 2002.
Global Perspective and Teaching Excellence
Seeking to broaden his educational horizons, Robert Goetschkes joined the U.S. Peace Corps after college. He dedicated two and a half years to living and serving in Tonga, engaging in community-based projects that fostered connections and contributed to the global community. This invaluable experience, coupled with his extensive travels in India, Europe, Australia, New Zealand, and Fiji, enriched his perspective and shaped his ability to positively impact the lives of his students during his 25-year teaching career.
Teaching with Distinction
During his service in the U.S. Coast Guard, Goetschkes received numerous honors and awards, including the USO General Dynamics Community Service Award in 1995, the Navy League Award for Outstanding Military Service in 1996, two consecutive Good Conduct Awards from the USCG in 2000, and the National Ski Patrol 10 Year Service Award in 2017. These esteemed accolades hold deep personal meaning for Goetschkes, symbolizing the growth and character development he experienced during his time in the Coast Guard.

Beyond his military achievements, Goetschkes received recognition for his dedicated service and hard work outside the military sphere. Notable honors include the Certificate of Appreciation for Peace Corps Service presented by President Bush in 1992, the National Ski Patrol 10-Year Service Award in 2017, the Knights of Aksarben Good Neighbor Award in 2012, and the Teacher of the Year Award from the Norwin School District in 2006
Leading with Philanthropy
Currently, Goetschkes lends his expertise to the Leeward Light Charitable Foundation, a commendable 501(c)(3) nonprofit organization that owns and operates charitable thrift stores throughout New England. The foundation's tireless efforts revolve around utilizing all profits to support existing charities and foundations within the community.

Although he is enjoying retirement from teaching, Goetschkes remains committed to active involvement and meaningful contributions to the community. Since 2009, the Leeward Light Charitable Foundation has donated over $3 million to local New England charities, addressing the critical needs of community members by providing essential sustenance, clothing, and comfort.
Family and Community: Building a Lasting Legacy
Following his honorable discharge from the Coast Guard, Robert Goetschkes embraced the joys of family life, marrying and starting a family. As a devoted father, he firmly believes that education and service form the pillars of a lasting legacy.

In addition to his accomplishments as an esteemed educator and decorated veteran, Goetschkes dedicated his time to various community programs. For five years, he selflessly served in the Red Cross Disaster Services Department, actively participating in rebuilding communities devastated by natural disasters. He ensured that victims had access to vital resources, including food, water, and shelter, with his teammates during the aftermath of crises.

Further exemplifying his commitment to public education, Goetschkes spent five years working closely with the Henry Doorly Zoo as an aquarium diver. Leveraging the skills acquired while in the U.S. Coast Guard, he contributed to maintaining and advancing the zoo's aquarium programs.
Pursuing Passions and Enriching Lives
In his personal life, Goetschkes embraces his love for learning and exploration. Whether engaged in writing, fly-fishing, disc golf, cooking, or bird watching, he wholeheartedly immerses himself in these pursuits, mirroring the same passion and dedication he exhibited throughout his teaching career. Notably, Goetschkes became a Certified Sous Chef with the American Culinary Federation, a testament to his culinary prowess.

Moreover, Goetschkes enjoys sharing outdoor adventures with friends and family. Growing up, Adirondack Mountain vacations kindled his love for winter sports, and to this day, he finds solace and excitement in skiing, kayaking, mountain biking, surfing, sailing, and scuba diving.


Robert Goetschkes embodies excellence in education, philanthropy, and personal growth. His journey showcases the qualities of an exceptional educator, compassionate humanitarian, and catalyst for positive change within his community and the world. Through his unwavering commitment to lifelong learning, compassion, and service, he has left an indelible impact on numerous individuals fortunate enough to have crossed paths with him.